STURGIS MOTORCYCLE HALL OF FAME
FREEDOM FIGHTERS MEMBER 2005
BIKER ROGUE, a personal page from a gray bearded Biker Photographer about the lifestyle - rides - brothers & sisters - the good and bad times through the years. Some good technical information - links -and his opinion about whatever.
I am a well known Photo-Journalist in the Motorcycle Field and have had my work continually published in national magazines since the late 60s. I also do work for select individuals.
I am currently available for a limited number of Photo Sessions . Would you like Photos of Your Self or another Individual ? Your Motorcycle ? What about your Motorcycle Event? I am available to build a limited amount of motorcycles per year and for consulting to motorcycle related businesses.
I also do R&D Work, Product Testing and Evaluation of Parts or Products for American V-Twin Motorcycles often resulting in a Technical Article in a National Magazine should you so desire.
If you are interested in any or the above please contact me at rogue@bikerrogue.com

PRESS RELEASE
For Immediate Release
"ROGUE?aka John Herlihy is proud to announce he is increasing his Motorcycle and Event Photography business to include Public Relations and Promotions.
ROGUE has been riding motorcycles for 50 years and been employed in the industry for 35 years. He has a vast knowledge of its inner workings and culture, plus extensive connections and associates.
His photojournalist work has been continually published in National Magazines for the past 35 years mostly as a contributor to Paisano Publications (Easyriders, Biker, In The Wind, etc).
Rogue is also well known for his expertise in building and repairing motorcycles having worked the past 10 years as V-Pres. of Research and Development, Supervisor of Final Preparation and Repair, Engine Shop Supervisor, and Technical Supervisor for 2 aftermarket Harley type big cruiser companies.
He will continue to build motorcycles for individuals and is also available for Consulting and Research and Development projects.
He can be contacted at Rogue Motorcycle and Event Photography, P.O. Box 184, Melbourne, Florida, 32902 e-mail rogue@bikerrogue.com.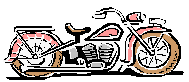 USE WINDOWS MEDIA PLAYER
TO OPEN
NUMBER OF
VISITORS TO
ROGUEDOM