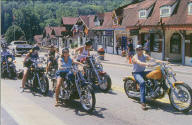 IRON CAVALRY REUNION
When I was contacted about covering the Iron Cavalry Reunion held in Helen, Georgia, I have to admit visions of good ol' boys and everclear did enter my mind. Shit, I agreed right away.
Helen is about 100-miles northeast of Atlanta in the Blue Ridge Mountains and as I was enjoy­ing the ride through the rolling countryside and thinking this was nice country—it even had some windy roads, which are always a pleasure after Florida.
As I rounded a curve I saw a Bavarian Village out here in the middle of nowhere. . damn, it was Alpine Helen. This was different, not what I expected. This resort village with its cobblestone alleys, old-world towers, and the Chattahoochee River running through the middle of town, boasts of its 200 specialty shops, restaurants, river tubing, horseback riding, fishing, etc. All the stuff you would expect in a resort area. And now, bikers. This could be interesting...
The town was full of motorcycles, but not too hectic like some of the bigger events. There was plenty to do, a bike show, swap meet, demonstra­tions, a group ride through the local countryside, Miss Chaps Contest and even "Tubin' the Hooch" (that means riding a big inner tube down the Chattahoochee River). In the evening the Dan Plowden Band belted out some really good sounds and people just had a grand ol' time.
On Saturday evening they had a wet T-shirt contest under the watchful eye of local law en­forcement. Someone said they figured the bikers might have too much fun, but I think they were just hoping for a little peak at some nice titties. I think the cops were pretty fair, but they do vigor­ously enforce all "no parking" signs. Hey that's a lot better than some other places. I did find a few ladies that wanted to be seen and we did accom­modate them as best we could, being careful to try and not offend the tourists. Sponsors of the event are Dixie Riders, Easyriders of Atlanta, Easyriders of Augusta, North Georgia Street Eagle, Triumph, The Hawg Pen, Fraizer Harley-Davidson, Helmet City, and Meress Enterprises.
I had a great time and I hope to get invited back again. Maybe I'll see you there.
For more information on the event contact Rogue at rogue@bikerrogue.com, or Dixie Rider at staff@dixierider.com; 888-374-3371.
—Rogue