Rogue
by Bomber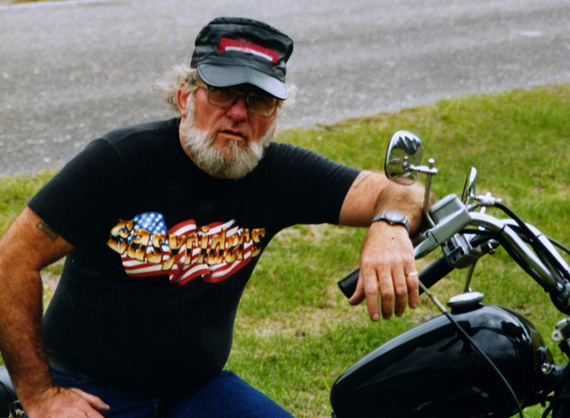 Born John Herlihy in Connecticut, Rogue grew up riding from his earliest days as an adolescent. While in the Air Force, he was trained in photography. He was a gunner, and in the Cold War era they were trained using cameras instead of actual weapons for target practice aboard beefy B bombers. Rogue bought his first 35mm, a Nikon, overseas. He also learned a trade that has provided him a career as a mechanic. Wrenching is what Rogue has always fallen back on, and his knowledge and expertise on Harleys and motorcycle engine design and innovation has created his current professional green as a consultant for the new kids on the block in the hybrid bike market, American Quantum Cycles.
In the infancy of Easyriders, Lou Kimzey and Keith Ball sought out Rogue for his skill in organizing bikers against the mandatory helmet law in effect in Connecticut. He and his mentor Pappy with the fledgling Connecticut Motorcycle Riders Assn. and ABATE of Conn., had made headlines protesting a local park's "no bikes allowed" ruling. Rogue was soon covering the East Coast for the magazine. He carried a camera and a solid reputation as a bro who dealt with the straights on his own terms, and also wasn't afraid to click off film of the parties and runs he both attended and/or organized.
Despite having to battle The Man in Florida, putting him through a legal hell over the past few years for no good reason other than he's an unabashed biker, Rogue says, "I've had a fun life. I've met so many good people over the years. I appreciate all the people who have taken time to explain stuff to me about photography and haven't given up on this old man. Plus, all my kids ride."
As for his future, in true scooter tramp style Rogue would like to, "Ride around the country takin' pictures ... nd nailin' all the women I missed the first time." Told ya he was a hall of famer.
-Bomber
Article from 20 Years of Riding Thrills In the Wind Anniversary supplement