Motorcycling lost one of its most prestigious women when Gloria Carter Spann left us on March 4, 1990. I'm sure she's in biker heaven now, making it a better place.
Gloria was not a person you heard a lot about. She preferred to be very low key, spending time with her husband, Walter, traveling around the country on their Harleys when work on the farm in Plains, Georgia, was caught up.
She was very much into the biker lifestyle, loving it and the bikers as well. There was an open door policy at the farm and there was always a place to stay and a good meal for any biker who showed up.
She was there for the good times, the parties and the events, and she was there when work had to be done, too. She was always ready to do whatever she could. She worked hard for motorcyclists' civil rights, participating in better than her share of helmet law protests. She got people involved, teaching how the legislative system worked and helping those on both sides of the issue get together and trust each other and work out the problems. Gloria would say, "You are both friends of mine, the best people for the job. So get it done."
And I know that her brother, former president Jimmy Carter, got his ear twisted more than once, too.
When Gloria found out she had cancer and that it was going to take her rather quickly, a farewell party was held in Georgia just outside of Plains. It was the last time a lot of us were going to see our friend and sister alive.
Gloria and I did get to spend some time together alone at one of our favorite spots, her kitchen table. A lot of the conversation was personal, but she did ask me to do a couple of things.
First, to make sure all the bikers knew she loved them. The other was that I be the one to write this about her and that I did not get too flowery when I did.
That's hard.
I want to stand on top of a mountain, and as loudly as I can, tell everyone how great a person she was and still is in spirit.
Those of you who met her know exactly what I am saying.
We said our final goodbyes, until we met again at Plains on March 6th in the early part of Bike Week.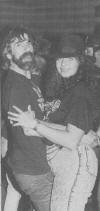 When the ceremony was done and she was placed to rest and covered, it was done by hand by bikers.
Numerous clubs, free riders, and brothers side by side showed love and respect for a lady who deserved it and more.
I am happy and proud to have had Gloria for a sister, and though she is physically no longer with us, she will always be in my heart.